Exploring Lataguri Backpackers' Camp: An Offbeat Adventure
Lataguri, a hidden gem nestled in the heart of the Dooars region, is known for its unspoiled natural beauty and thriving wildlife. Amidst the dense forests and sprawling tea gardens, you'll find a true wilderness paradise – Lataguri Backpackers' Camp. This offbeat camp in lataguri is a haven for nature enthusiasts seeking an authentic, immersive experience. In this comprehensive guide, we'll delve deep into what makes Lataguri Backpackers' Camp an extraordinary destination for offbeat travel.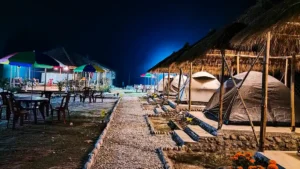 Unearthing the Charms of Lataguri Backpackers' Camp
A Pristine Retreat in the Wilderness
Lataguri Backpackers' Camp is not your typical tourist destination. Situated away from the crowded tourist hotspots, this camp offers an escape to the uncharted territories of Dooars. The pristine surroundings and lush greenery make it a perfect refuge for those looking to reconnect with nature.
Your Gateway to the Dooars
The camp's strategic location makes it an excellent starting point for exploring the Dooars region. Whether you're planning a wildlife safari in Gorumara National Park or an adventure in Chapramari Wildlife Sanctuary, Lataguri Backpackers' Camp serves as an ideal base for your offbeat excursions.
Immersive Wildlife Encounters
Gorumara National Park: A Biodiversity Hotspot
Gorumara National Park is a stone's throw away from Lataguri Backpackers' Camp. This reserve is renowned for its rich biodiversity, housing various species of animals and a diverse avian population. Embark on a thrilling safari and witness elephants, Indian bison, and leopards in their natural habitat.
Chapramari Wildlife Sanctuary: A Birder's Paradise
For the birdwatchers, Chapramari Wildlife Sanctuary is a short drive from the camp. With over 200 bird species, including the vibrant Indian pitta and the majestic hornbill, this sanctuary is a haven for ornithophiles.
Offbeat Adventures in Lataguri
Guided Jungle Walks
One of the highlights of staying at Lataguri Backpackers' Camp is the opportunity to take guided jungle walks. Trained naturalists accompany you through the forest, sharing their knowledge of the local flora and fauna.
Tribal Village Visits
Immerse yourself in the local culture by visiting nearby tribal villages. Interact with the warm and welcoming tribes of the region, such as the Lepchas and Bhutias.
Night Safaris
Experience the thrill of night safaris in the Dooars. Witness the jungle's nocturnal life, including the elusive leopards and Indian civets.
Uncovering the Camp's Unique Offerings
Rustic Accommodations
Lataguri Backpackers' Camp offers rustic accommodations, allowing you to connect with nature without compromising on comfort. Enjoy the serenity of the camp in eco-friendly cottages and tents.
Local Cuisine
Indulge in traditional cuisine prepared by local chefs. Savor the flavors of the region, including momo, thukpa, and local teas.
Campfire Evenings
End your day with a campfire under the starlit sky. Share stories and experiences with fellow travelers while enjoying the warmth of the fire.
How to Reach Lataguri Backpackers' Camp
Getting to Lataguri is an adventure in itself. Whether you choose to travel by train, bus, or car, the journey to this offbeat destination is as enchanting as the camp itself.
Planning Your Visit
Best Time to Visit
Discover when the ideal time to visit Lataguri Backpackers' Camp is, depending on your interests and what you hope to experience.
Essential Packing List
Ensure you're well-prepared for your offbeat adventure with a list of essential items to bring with you.
Sustainability and Conservation Efforts
Learn about Lataguri Backpackers' Camp's commitment to sustainable tourism and wildlife conservation. Discover how your visit contributes to the preservation of this beautiful region.
Stories from the Backpackers
Read personal accounts and travel stories from backpackers who've embarked on this unique journey, sharing their insights and memorable experiences.
Conclusion
Lataguri Backpackers' Camp is a hidden paradise for those seeking an offbeat tour and travels experience in the Dooars. It offers an immersive, sustainable, and enchanting experience for nature enthusiasts, wildlife lovers, and adventurers. Come, venture into the wilderness, and create lasting memories in the heart of Lataguri.
[Your Call to Action: Book Your Offbeat Adventure at Lataguri Backpackers' Camp Today]