Are you tired of the hustle and bustle of city life in Kolkata? Looking for a serene escape that's not too far from the city? Look no further! Sankarpur, a hidden gem on the East Coast of India, is the perfect destination for a relaxing weekend getaway. In this article, we'll be your Sankarpur tour guide, offering you an enticing Sankarpur tour plan and highlighting the best Sankarpur package from Kolkata.
Sankarpur Tour Guide: Discovering the Hidden Beauty
Sankarpur is a quaint seaside village located approximately 180 kilometers from Kolkata. Nestled between Digha and Mandarmani, this coastal town is renowned for its pristine beaches, lush greenery, and tranquil ambiance. Here's your comprehensive Sankarpur tour guide to make the most of your trip:
Day 1: Arrival in Sankarpur
Start your journey from Kolkata early in the morning to make the most of your day.
Upon arrival, check-in to your chosen accommodation, which ranges from budget-friendly guesthouses to luxury beach resorts.
After a hearty Bengali lunch at your hotel, head straight to Sankarpur Beach. Stroll along the serene shores, take in the sea breeze, and witness the stunning sunset.
Day 2: Exploring Sankarpur
Begin your day with a scrumptious breakfast at your accommodation.
Explore the nearby fishing villages and interact with the locals to get a taste of their traditional way of life.Don't miss the opportunity to indulge in some thrilling water sports like jet skiing and banana boat rides.In the evening, visit the charming Mandarmani Beach, located just a short drive away.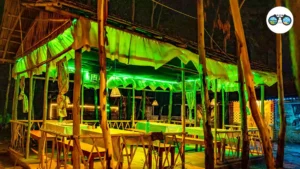 Day 3: Bid Adieu to Sankarpur
After breakfast, take a leisurely walk along the Sankarpur Beach one last time and collect seashells as souvenirs.Check-out from your hotel and start your journey back to Kolkata, rejuvenated and with memories to cherish.
Sankarpur Tour Plan: Customize Your Experience
Sankarpur offers a variety of experiences, catering to different preferences. Whether you're a nature lover, an adventure seeker, or simply looking for relaxation, Sankarpur has something for everyone. Here are a few Sankarpur tour plan options to consider:
Nature's Retreat: Immerse yourself in nature by exploring the lush green surroundings and bird-watching in the nearby forests.
Adventure Escapade: For the adrenaline junkies, indulge in thrilling water sports and beach activities.
Romantic Getaway: Sankarpur's serene ambiance makes it an ideal destination for a romantic retreat. Enjoy quiet moments by the beach with your loved one.
Cultural Expedition: Explore the rich cultural heritage of the fishing communities in the region and savor local delicacies.
Sankarpur Package from Kolkata: Convenience at Your Fingertips
To make your weekend trip to Sankarpur hassle-free, consider booking a Sankarpur package from Kolkata. These packages often include transportation, accommodation, meals, and guided tours, allowing you to relax and enjoy your vacation without worrying about the logistics.
Sankarpur is a hidden paradise waiting to be explored, and it's just a short drive away from Kolkata. With this Sankarpur tour guide, you can plan a memorable weekend getaway that suits your preferences. Don't forget to consider a Sankarpur package from Kolkata for added convenience. So, pack your bags and escape to the tranquility of Sankarpur on your next weekend trip from the City of Joy.